Suites For Office Space
in West Hollywood
Looking to switch up your work-from-home views? Let us introduce you to our unique office space solution. Rent one of our spacious, residentially-styled suites with private balconies and enough room to spread out, work, and brainstorm. Offering daily rates today!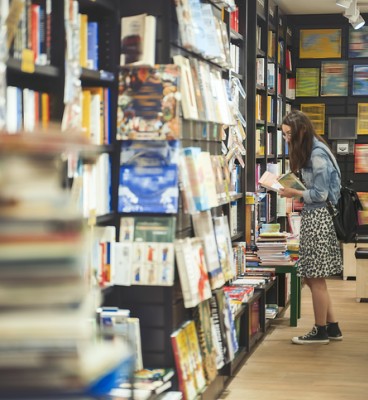 Book Soup: Where Literary Luminaries and Book Lovers Meet
In the early 1970s, two UCLA graduate students got this crazy idea to open an independent bookstore in West Hollywood (a neighborhood not necessarily known for its literary devotion). Thus, in 1975, Book Soup opened on Sunset Boulevard between a strip club and a head shop. The latter two venues are no longer around, but Book Soup is still going strong all these years later. The store is especially inclined to stock international, university, and small publishers, and the floor-to-ceiling shelves pack an astounding variety of new, used, and rare books. Celebrity sightings are fairly common, both because celebs love to shop at this iconic store and also because Book Soup regularly invites noted personalities to give talks and sign their latest work. The many luminaries hosted there over the years include Hunter S. Thompson, Muhammad Ali, The Doors, Gore Vidal, and Tom Stoppard, just to name a few. Plus, when it comes to friendly, well-read staff eager to help you locate just the right book for you, you can't do better than a heaping helping of Book Soup.
Address: 8818 Sunset Blvd, West Hollywood, CA 90069
Read other posts
Why You'll Love Them
Access to high-speed internet
Daily Wine Hour
Self-parking
Rooftop pool & tennis court for a break from working
Grab-and-go snacks from the lobby to fuel you up